Everything You Need to Know
Thursday mornings 10:30 a.m. – 12 p.m. Rm 106.
Begins late September
Led by Ramona Hohenstein
To request a book, contact Ramona Hohenstein
Are you searching for greater confidence, purpose, and peace? Are the pressures of this world weighing you down? Are you feeling overburdened and overwhelmed?
In this study, bestselling author Dr. David Jeremiah draws on 2 Peter 1:3–11 to show how there is help at your fingertips—help that will give you everything you need to walk life's trail with resilience and strength. While many Christians feel unprepared to walk the journey of faith, you can be assured that God has provided the tools you need to guide your way—resources such as virtue, knowledge, self-control, perseverance, godliness, brotherly kindness, and love. You can live in confidence because of His promises!
Fascinating Bible Studies on Every Parable
Sunday mornings 9 a.m. Rm 106.
Begins September 18
Led by Daryl Spors
To request a book, contact Pastor Amy Powell
"Jesus knew the power of stories to touch people's hearts, so he used parables to teach his followers about the kingdom of God. If you want to know God better, the keys are in the parables.
This book provides short studies on every parable in the Bible. You'll learn what God wants us to know from the prodigal son, the Good Samaritan, the lost sheep, the talents, the sower, and many more.
Each study includes a summary of the parable, the Scripture reference where it can be found, information on the historical and cultural setting, and key points. At the end of each study are questions that open the door to discussion, reflection, or further investigation and help you get to the heart of the parable."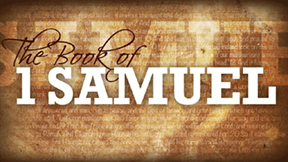 Hearing God in the Chaos:
A Look at 1st Samuel
Bible Study with Pastor Amy
Each Thursday 6:30-7:30 p.m. via Zoom (No Class on Oct. 6 or 20)
Each Wednesday 2-3 p.m. in Room 106 (No Class on Oct. 5)
The Old Testament book of Judges famously concludes with the verse "In those days there was no king in Israel; all the people did what was right in their own eyes." (Judges 21:25, NRSV). This verse could easily describe our modern day culture. What lessons can we learn from God's people in 1 Samuel as they navigate through a world where "Everyone is right yet everyone is wrong"? How do they respond to God's voice and calling? In what ways can we apply what we discover in these stories to our world today?
All are invited to this "come as you are" bible study. Each session stands alone so you are welcome to attend one week or every week! Bring your bible and together we will read select passages from 1 Samuel. We'll explore the stories in their own context and together discover their messages for us in our context today.